Hey lovelies, how's the Christmas shopping coming along so far? I dropped by Sephora today to re-stock my two favorite beauty creams before the year ends and while the prices are still alluring. I'm back with another review to prove that being a woman is far from easy.
Yes the two beauty creams that have become my staples are Peter Thomas Roth CC Cream and 3CE Back to Baby BB Cream. I understand it's not an apple to apple comparison as CC creams and BB creams have different main functions and marketed for separate beauty issues. For me though, the differences are very subtle as both function to blur imperfections and give me that dewy, glowing finish I love. Let's start yeah?
Swatch it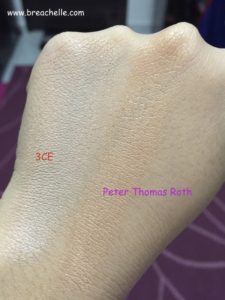 Peter Thomas Roth CC cream (SPF 30) – retails at SGD85 in Sephora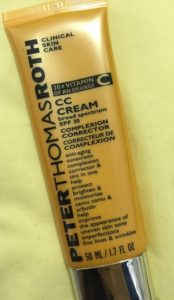 I must say that for the quality of this product, the price is actually a bargain. This is the only brand that convinced me to use a cc cream. It doesn't accentuate pores or give you those foundation lines.
Product Description: An all-in-one anti aging treatment, sunscreen, complexion corrector, moisturizer, and tint is formulated with arbutin and camu camu, an Amazonian superfruit that has 30 times the vitamin C of an average orange.
            Peter Thomas Roth CC cream when worn (Light to Medium shade)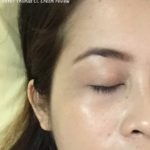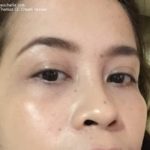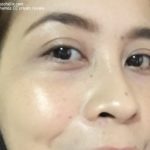 I am extremely happy with this cream. It gives me that glowing effect and not the greasy feels. With the amazing coverage, the overall touch is still very light on the skin. There are also times when I prefer the matte finish and I achieve that by using 3CE's loose powder (because 3CE solves everything hah)
2.  3CE Back to Baby BB Cream (SPF 35) – retails at SGD29 in Sephora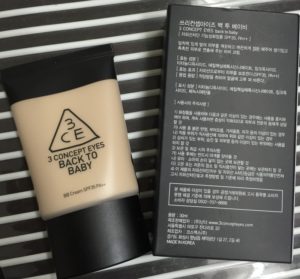 This one is from Stylenanda, one of Korea's most popular extensive line of cosmetics and stylish clothes. Compared to PTR, 3CE's Back to Baby is more watery and translucent. This only comes in one shade and it appears to match my skin tone just fine. Before 3CE came to Sephora, I had to order their products from Luxola.com or go to Johor Bahru's Komtar mall (I can see my daughter's future here)
 3CE Back to Baby BB Cream when worn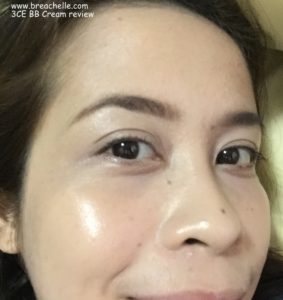 Forgive me if you've just eaten 🙂 🙂 🙂
If not for this being a bit watery, the finish will be almost the same as using Peter Thomas Roth. I tried to take a shot with the same angle as the above PTR-when-worn for you to see the similarity. From the swatches, you can somehow see a difference, but when I blend and apply 2 layers of 3CE, I get the same shade as PTR's.
I am extremely pleased with the longevity of this cream. Even after sweating or after a day's work, I can still swallow to look at my face without the eeek judgement. Sometimes I feel like I can trick people into thinking I just had a premium facial done on my face when I wear this, because of the instant glow.
I hope my colleagues never get to read this blog entry hahaha!
There ya go lovelies, these are my two secret weapons to looking 26 and "water full". Peter Thomas Roth line can be pretty expensive and I encourage you to try the testers first before you burn your pockets for a CC cream. On the other hand, there are always equally appealing alternatives like 3CE beauty line that you might fall in love with in your journey to BB and CC creams. Hope this has been of great help.
Seize the rest of your holiday season 🙂 Stay beautiful inside and out 🙂
Have a jingle bell rocking Christmas