some not-so million years ago —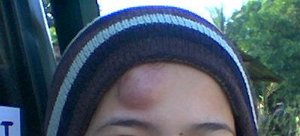 On our way to meet up with DOLE Philippines admin pips, a senior citizen (failed to recognize road signs-instincts), crossed the road with all his senior citizen rights and…bam!
Thank God we only "almost hit" him and dear Lord thank you, a big, beautiful bukol (lump) was the only painful remembrance I got. Glad everyone in the car was okay too.
And by the size of the bukol, you can tell that the DOLE people never bothered asking "wtf happened to you"!??
kids watch over your lolos and lolas