In my previous post My Top 10 Favorite Perfumes, Prada Infusion d Homme was a second placer, but if I had to choose an everyday scent that will go with almost any occasion – office, events, casual days or even just laying around in fresh sheets on a lazy Sunday, this is that scent. Such a clean, heavenly classic scent that doesn't command too much attention, but is definitely a sophisticated head turner and lasting fragrance. I get a lot of compliments wearing this so why not give Prada Infusion d Homme its well deserved dedicated post.
To put the smell into words: imagine an expensive soap, fresh from the shower appeal, dries down to a soft lovely, baby powdery scent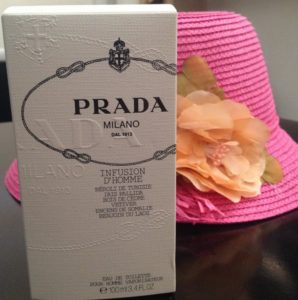 I've never been so convinced and so in love with a men's fragrance as they tend to be over powering and masculine. Not Prada though. When I first sprayed this perfume (tester), I couldn't stopped smelling my wrist and even on skin, it lasted for a good 6 to 8 hrs. It's been a year of wearing this scent and it still gives me that love at first smell giggle. To me, it is much more refined than Prada Amber Pour Homme (men).
Infusion D Homme is simply the best smelling perfume ever. It is not your typical men's scent. If subtle, crisp, light, clean, powdery, unoffensive, refined are how you imagine your dream perfume to be like, this scent is for you.
I've no idea how perfumes are made (top notes, middle notes, base notes) but I have high respect for the nose behind Prada Infusion d Homme, Daniela (Roche) Andrier. It's really worth the price and the rave from recognized scent forums like Fragrantica and Basenotes.
Here's a quick glimpse of the Prada Infusion D Homme hoarder that I am, please don't judge….haha. They've recently discontinued this scent and was replaced by Prada Cedre, in an attempt to officially make D Homme a woman's/unisex formulation.