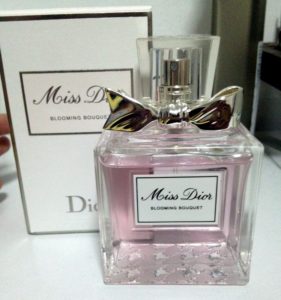 1. Miss Dior Blooming Bouquet EDT

The love of my life. Christian Dior Miss Blooming Bouquet is a fresh and chic floral fragrance that exemplifies natural femininity and everything that the colour pink is supposed to stand for. The fragrance starts with a blast of Sicilian oranges and citrus fruits.
In terms of quality in raw materials and execution of its composition, this perfume is exceptional. Its bottle also expertly showcases a true work of art. A glossy metallic bow decorates the neck and Christian Dior's signature houndstooth pattern is embossed on the bottle's base.
Miss Dior Blooming Bouquet opens with crisp and dewy floral and fruit notes that feel pinker than green. There's something green hiding in the background and a little bit of sweetness, something Miss Dior is known for.
The only problem is that it does not really last long. A more daring use of flowers would have been nice.
 2. Prada Infusion D'Homme EDT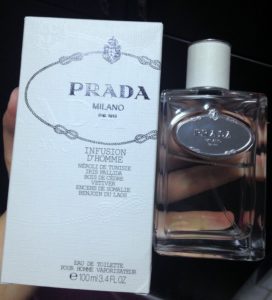 My ultimate favorite among Prada's Infusion D' edition. It is a man's perfume but this is very much wearable for women too. It gives you that clean, out of the shower, expensive French soap appeal. In the drydown, I thought it exudes elegant powdery iris scent. The longevity is pretty outstanding on my skin for like 4 to 5 hours. It can be worn both in the day and night too. Infusion D Homme is definitely one of the best designer scents ever made, hands down. I have to say Prada's Infusion edition marked my graduation from sweet, fruity, girlish scents to a more confident, office-friendly and well-informed scent choices.
3. Tory Burch Eau de Parfum (EDP)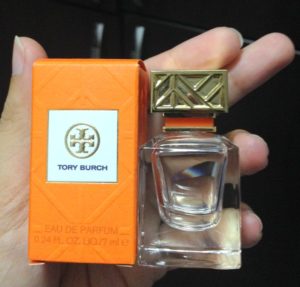 You know when you smell a scent that is so distinct yet it gives you that deja vu feeling? That is this scent. Tory Burch Eau De Parfum Spray
is enchanting, fresh, and refined. The perfect sophisticated and classic, yet unexpected and young kind of scent. Full of crisp citrus notes, this perfume smells perfect for spring or summer, but would not be out of place in the cooler months thanks to the velvety, nuanced base.
I feel compelled to wear it with a chic pencil skirt and button up. If you like fresh scents that have an appealing sweetness that is feminine but not overpowering, this is perfect.
The lasting power is perfect on me. It changes quite a bit over the course of the wear, but in an amazing way. First, it is fresh and energizing. The citrus and neroli are most prominent at first sniff. As it sets, the floral notes begin to mingle with the fresher, citrus-y notes, making for a scent that feels really happy and bright. And lastly, I looove the bottle; it is such classic Tory Burch design. Sleek lines, gold writing and accents, and a little pop of color.
4. Prada Infusion D'Iris EDP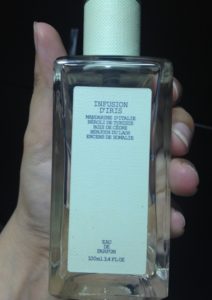 This is the female version of Infusion D'Homme and note that it's an EDP (there's an Infusion D'Iris EDT which I don't kinda like)
It smells like a reliable, contemporary, and clean fragrance that isn't too strong or "pushy". Sillage and longevity are both very good. It has just a hunt of excitement and some light rooty iris and cedar notes that balance with the vetiver in the base of the fragrance.  The topnotes are as clean, airy, fresh as D' Homme and drydown has a tickle of lemony, woodsy aura. It's definitely a scent I can trust as I put my best foot forward during client meetings or as an everyday office signature scent.
5. Dior Homme Eau de Cologne
I would say this is Dior's answer to Prada. Dior as always, exudes the elegance of simplicity when it comes to their fragrances. Its top note gives a subtle citrusy scent (Calabrian Bergamot) and the base note (oh my goodness) gives you the impression of an immaculate cotton effect.
This is, so far, the only Men's scent from Dior that I love.  The lasting power is 4 hours for clothing while the skin scent is still visible after 8 hours. Definitely a must try for every man or woman. A nice clean and inoffensive fragrance for everyday wear at the office too!
6. Salvatore Feragammo Incanto Bloom EDP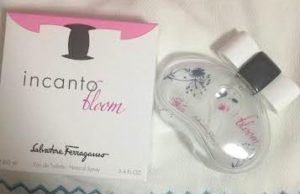 I first smelled this from a friend's blouse as she was about to put it in the washing machine. It impressed me. This perfume is gorgeous, and has an Asian feel to it. So far this is my only favorite among the Incanto line. I must compliment the lasting strength which is incredibly good. The opening is a very pleasant fresh floral dreamy scent. Rose is very evident but its not the irritating typical musky rose. 
On my skin, it can last anywhere from 5 to 6 hours and on my clothes it can last all day.

 and oh by the way, there's a new Incanto Bloom edition with a slightly redefined scent and packaging…I was lucky to have bought this new edition at a discounted price so yay!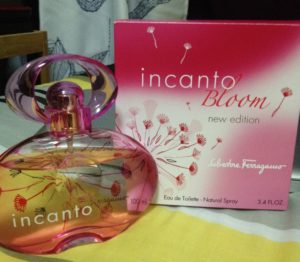 7. Marc Jacobs Daisy Eau So Fresh
This perfume smells like a garden. Fresh, clean, innocent and comforting. The bottle is so creative it makes a great gift. Lasting power is not so strong, anywhere from 1 to 3 hours. One beautiful thing about Daisy is the distinct soft, subtle floral scent it leaves behind. I would wear this during bedtime because of its subtlety but that doesn't mean it can't be a head-turner for daytime scent.
Heavenly, stand-out packaging, pretty.

8. Zara Woman 92 Champs Elysees Paris EDT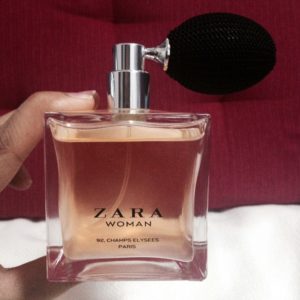 At first, I was unsure about this scent but eventually fell in love with its soft warm floral musk…such a pleaser too! I was in the Philippine embassy and someone asked me what scent I was wearing. Other than the elegant bottle, it has a silky luminescence to it when sprayed.
9. Elizabeth Arden Green Tea Honeysuckle EDT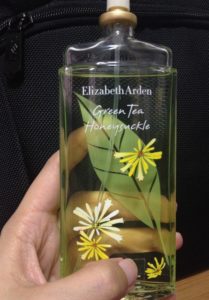 This reminds me of Victoria Secret's Secret Charm that also has honeysuckle sweetness in it. I am not really a fan of Elizabeth Arden's green tea range but this is totally irresistible. Okay it may not be the purest of honeysuckle fragrance but you can sense it's gentle presence, overpowered by the green tea and lovely lemon scent. I also use this as a pillow mist and it somehow gives my room the "spa-ish" aroma.
Definitely good for sunny and rainy days fragrance, clean, fresh and feminine. The only con is the staying power, it can only last for like a good one hour.
10. Victoria's Secret Bombshell EDP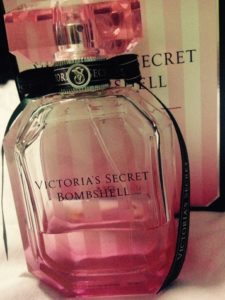 The most raved about bestseller. This reminds me a lot of being young, carefree and confident, such a "happy" scent. You could imagine a joyful mix of freshly cut white flowers and clean unoffensive heavenly floral notes. It is a must have for every woman…
There you go! Let me hear about the perfume you fancy the most too:)