It was Year 2011 when I got introduced to what the million dollar skincare industry call "facial essence". I was peer pressured to use SK II's Pitera and to be honest I really didn't understand the science behind treatment essences. Fast forward to growing older, more mature and aging skin, I got re-acquainted to using facial essences through a colleague who has admirable skin that can hypnotize people.
Long story short, Missha First Treatment Essence back to back with Missha's Time Revolution Night Repair Science Activator Ampoule have become my daily skincare routine and this newfound relationship is unbreakable.
Skin experts and industry bloggers have recommended continuous usage of 28 days before I can really see the effects. I mentioned this on some of my posts but if you've just stumbled upon my blog, please know that I don't really praise products whose abracadabra didn't work on me especially when it comes to skincare. I take my skin situation seriously cos while cells aging cannot be fully reversed, through the right skin products the visible signs can still be slowed down.
Missha won me over after first use 🙂    
That may sound a little exaggerating but that's literally the only way to put it. I now understand what the Missha rave is all about. I admit I was a little skeptical at first, but after applying the essence onto my face followed by the night ampoule, I remember waking up to a healthy-looking, supple and glowing fez. Instant results. The hype is realz.
Other than the brightening effect, I noticed how my monthly break outs have calmed down as well. I used to have regular zits on the forehead and chin area which I kinda come into terms with, thanks to my hormonal imbalance and peanut lifestyle…but Missha does its magic and I can now bid goodbye to an ever loyal skin bestfriend ~ a pimple foam wash.
Without CC Cream on
I don't really go under the sun without sunblock/cc cream on, that's the best lesson I learned from Paris Hilton 🙂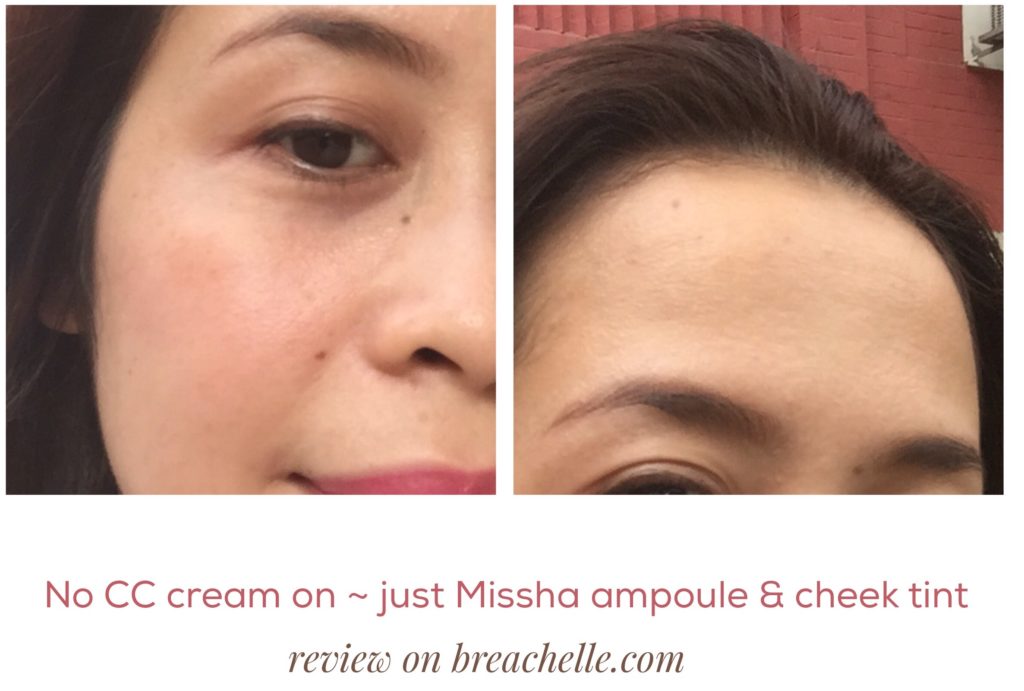 but for the entire test period (4 weeks) I decided not to as I really want to challenge the sorcery in Missha.
Here's a quick snap
My cheek look slightly pinkish because of the tint. I'm happy how my skin looks rejuvenated with just the right amount of glow.
See my sun-toasted face below (first two pics)? That was during our Mt. Bromo trip in the middle of sea of sand. BURRRN
After soaking my face in Missha essence and repair ampoule overnight, the next morning my face was back to looking "Misshafied" (3rd pic)
I really have no idea on the technicality of how essences and ampoule work but these two are a magic in a bottle that just works! Holy Grail worthy.  Hands Down. Chin Up. I am so going to Korea, rent a cheap AirBnB room and hoard skincare magic because of Missha.


Ingredients (the basics) – from www.misshaus.com
Missha Time Revolution First Treatment Essence – Contains 80% Fermented Yeast Concentrate. Also contains Niacinamide, a Vitamin B3 component, to improve skin elasticity, enhance skin barrier function, and revive skin tone and texture.
Missha Time Revolution Night Repair Science Activator Ampoule – comparable to Estee Lauder's Advanced Night Repair. It contains Fermented Bifida, Lactobacillus, and Lactococcus for improved, healthier skin.
Major Plus Points? NO PARABENS
Ladies, these 2 gentle skin warriors are worth every penny.
Price: When purchased separately, Missha FTE costs SGD79 and Missha Ampoule costs SGD59.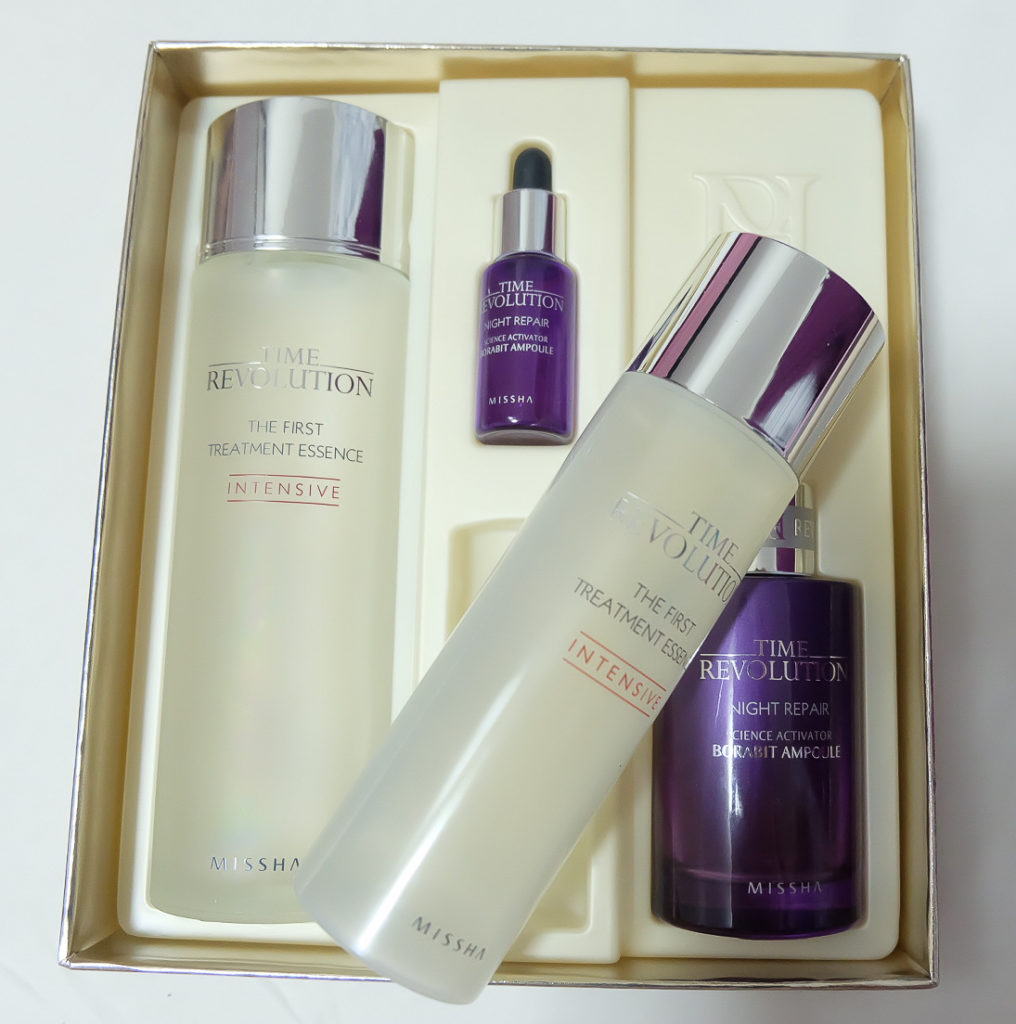 If you're lucky, you can catch their seasonal Special Gift Set that only costs SGD110 and with it comes the miniature bottles.
Lotsa Gifts: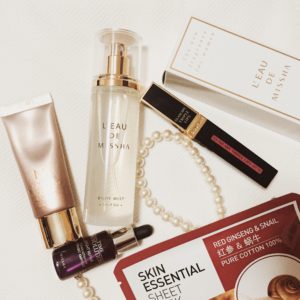 They say that in Korea, skin care shoppers are spoiled with freebies, the likes of BUY 50 And You Get 50 More Masks For Free kind of freebies. That is the lure of Korea (to me). Hi Korea I shamelessly wouldn't mind a You Might As Well Give Me Plane Ticket For Free kind of freebies? Hehe
Shout out and big thanks to Missha Orchard Gateway branch. I was pampered with so much goodies during my first purchase and during my second visit. See the photo to the right? that happened! Thoughtful staff knew I love perfumes plus who gives freebies that can sum up to as much as the total value of my purchase? Missha is pure love, let's hoard em'all.
There you go lovelies, thanks for stopping by!
cotton blossom, soft cuddles, high fives
Update: because of my skin's happy journey with Missha FTE and Missha ampoule, I got intrigued to try Estee Lauder's Advanced Night Repair to see the kind of magic it has….read my journey here