Finally! a BRAND of hair care products that works well with my hair and delivers it's promise – REPAIR DAMAGED HAIR.
Say hello to my new best friend – Kerasys!
If I have to describe my hair texture in one word it would be "dull". To me "dull hair" is a legitimate sister of "damaged hair" and believe me it is every woman's nightmare.
What went wrong?
Once upon a time, I had one hell of a shiny, wavy hair until…I got myself successfully convinced by the strong message the billion dollar hair industry business created that straight hair is always Queen.
And the journey to my lackluster hair began when I was just 15.
Fast forward to 12 years later – Rebonding, hair coloring, blow dryers, flat irons – the evidence of their damage is very much present in my hair. I did try a lot of hair care brands but after not seeing any wow results, I have come into terms with the fact that there's just no saving your hair once it's damaged.
Wrong! (insert Kerasys waving like a Miss Universe contestant here)
When I first used Kerasys, I didn't expect a miracle, but until now I cannot believe how their products can reverse the damage done to my hair.
KeraSys is the no.1 brand of hair care in Korea formulated scientifically for repairing damaged hair.
So what particular products from their hair care line am I using?
1. Kerasys Oriental Premium Shampoo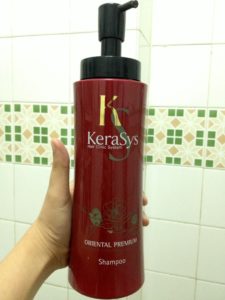 This shampoo helps to strengthen hair elasticity thus prevents hair breakage or loss. I use this everyday and have been noticing a positive difference in terms of hair shine plus I don't see hairs falling out at all while taking a bath. The regular bottle is huge so it will last up to 2 months of daily use.
The smell is perfect! not too light and not too overwhelming.
2. Kerasys Scalp Clinic Shampoo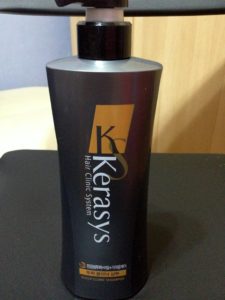 I alternate between Oriental Premium and Scalp Clinic shampoo so that my scalp will get proper nourishment too. As the name suggests, it's a special care product for repairing scalp troubles such as itchiness and dandruff. I don't suffer from dandruff but prevention is always better than cure. Although the smell is not as nice as Oriental, this shampoo makes my scalp feel squeaky clean!



3. Kerasys Nutritive Clinic Ampoule – This is LOVE!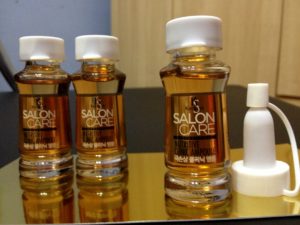 This is the ultimate hair softener from roots to tips!  After my first treatment, my hair instantly felt smoother with noticeable healthy hair glow. I give my hair an ampoule treat once a week. Thanks to Kerasys, I don't have to spend a small fortune in salons to get this type of special hair treatment. My hair will never be the same again.
1 box contains 3 classy bottles with 15 ml ampoule.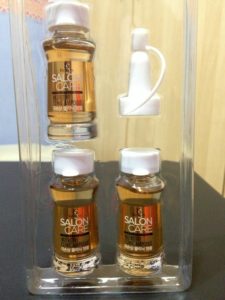 How To Use:
* Shampoo and towel-dry hair
* Fasten the cone on the bottle and press the cone to release the ampoule onto hair.
* Distribute evenly and massage. It is recommended to use the entire 15ml bottle on long hair and only half the bottle for shoulder-length hair.
* Leave ampoule absorbed by hair for 5 to 10 minutes and rinse off with lukewarm water.
Voila! perfect hair glow!

4. Kerasys Damage Clinic Rinse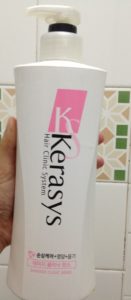 For the very first time my hair learned the art of detangling very diligently. Thanks to this conditioner!
I use it everyday after the Oriental/Scalp care shampoo and it has a lovely, feminine scent that really smells so good.
It is said to contain herb extracts, edeiweiss extract, panthenol, and hydrolyzed protein. I have no idea what those ingredients are but they bring sexy back to my tresses! I am absolutely in LOVE with this daily conditioner.
5.  Kerasys Miracle Serum – The One!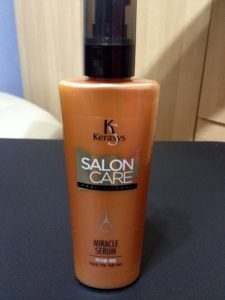 Serums are designed to fight the many facets of hair damage including dullness and breakage.  Now this one is a miracle worker. All I have to do is pat it on my hair and I can see and feel immediate results. I was totally blown away.
This is the very reason why I decided to share a review about Kerasys hair care products in order to spread the word to everyone! There was a time when I purposely did not shower to test whether the miracle serum will still do wonders without its other Kerasys teammates in my regimen.
And it did! I was at loss for words to thank Kerasys about its goodness.
There ya go! the products I listed above are part of my daily/weekly hair care regimen. A few days ago, I was testing two more products from Kerasys and thought of sharing more good news to you.
6. Kerasys 2 in 1 Ampoule Essence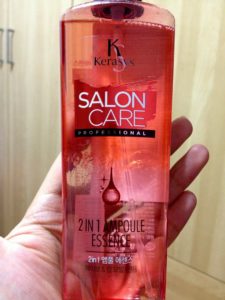 Mist over hair to keep the ends more elastic. If you have wonderful curls, this will keep those loose waves voluminous throughout the day. I use this during noontime and bedtime.
7. Kerasys Nutritive Ampoule Treatment (Hair Wax)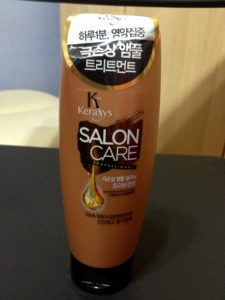 I use this as a conditioner after treating my hair with the Nutritive Clinic Ampoule.
This is my very honest review about Kerasys hair care products. It took a lot of trial and error to find a hair care routine that works best for my hair type. I hope that you too will experience the same WOW results I achieved using Kerasys. Share your hair wonders too!
P.S. I received questions on where else to buy Kerasys hair care products outside of Singapore. My advice is to get it online. Best is to choose the sellers that are Korea-based, like that of Q0010 or Lazada. For those living in the Philippines, I saw Kerasys hair care products in SM supermart too.