I've become a loyal user of Korean Skincare products for quite a while now especially after having tried their cult essence – Missha Time Revolution line. My experience with Korean skincare brands and their famous 7-step routine have been positive so please know it wasn't an easy decision to take a break from the intricate K- regimen.
Why the switch to Japanese brand SK-II?
I have to admit that SK-II's retargeting ads were very effective. I have used Pitera before but this time they've introduced a latest breakthrough in a new oil form combined with its sake-based Pitera essence.
3 to 4 customized, multi-channel retargeting ads at 3 impressions per day later, I was finally convinced to hop on the Japanese skincare journey.
It was also my way of giving my skin a break from the usual 7-10 step routine to a much simpler one for a good 6 months as of this writing.
Here are my Top SK-II holy grail products: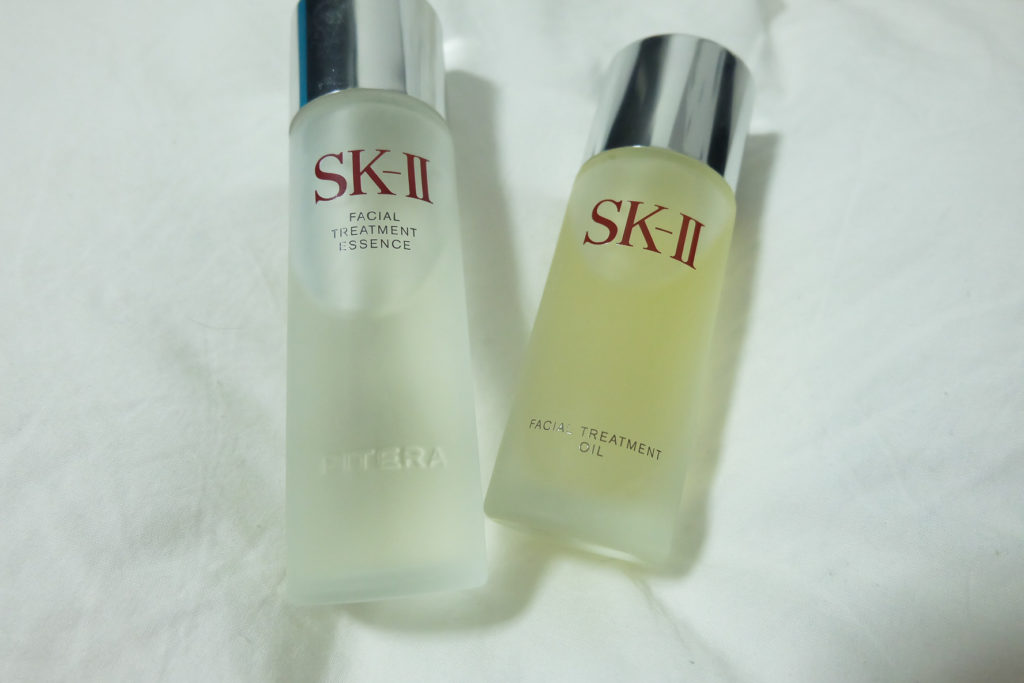 1. Facial Treatment Essence – Pitera Power
SK-II's skincare products revolve around the main patented ingredient – Pitera. With its waterlike consistency, it is said to be rich in amino acids and vitamins that encourage skin rejuvenation and new cell turnover. I apply this twice a day after cleansing and it gets absorbed into my skin very quickly.
Effect: It does have the same effect as Missha Essence but unlike the latter, SK-II took a much longer time for me to see its brightening effect and noticeable skin firmness. It has a sour-like smell but not too bad to really put me off.
It's like how some food are engineered to taste nasty but are actually good for the health.

2. Facial Treatment Oil
This is another breakthrough product from SK-II with combined power of Pitera and nourishing oils meant to provide longer hydration. Although this is oil-based, it is non-greasy and didn't cause me break outs. In fact, it played a major part in clearing out tiny, hormonal acne spots on my jawline area.
I especially like how it gives off a soothing lavender scent when applied on skin. People with extremely dry skin will really enjoy its intense hydration benefits.


3. Whitening Power Spot Specialist
I used this mainly because of the occasional hormonal pimple marks that Aunt Flo brings. It is said to contain intensive whitening agents targeting spot formations and some beauty bloggers use this to lighten their freckles.
4. GenOptics Aura Essence
This one's a really good investment to maintaining spotless and youthful skin.
Combined with FT Oil and Whitening Spot, I believe this helped reduce and whiten the once visible acne spots on my jawline. Sticking true to SK-II's overall skincare philosophy – Changing Destiny.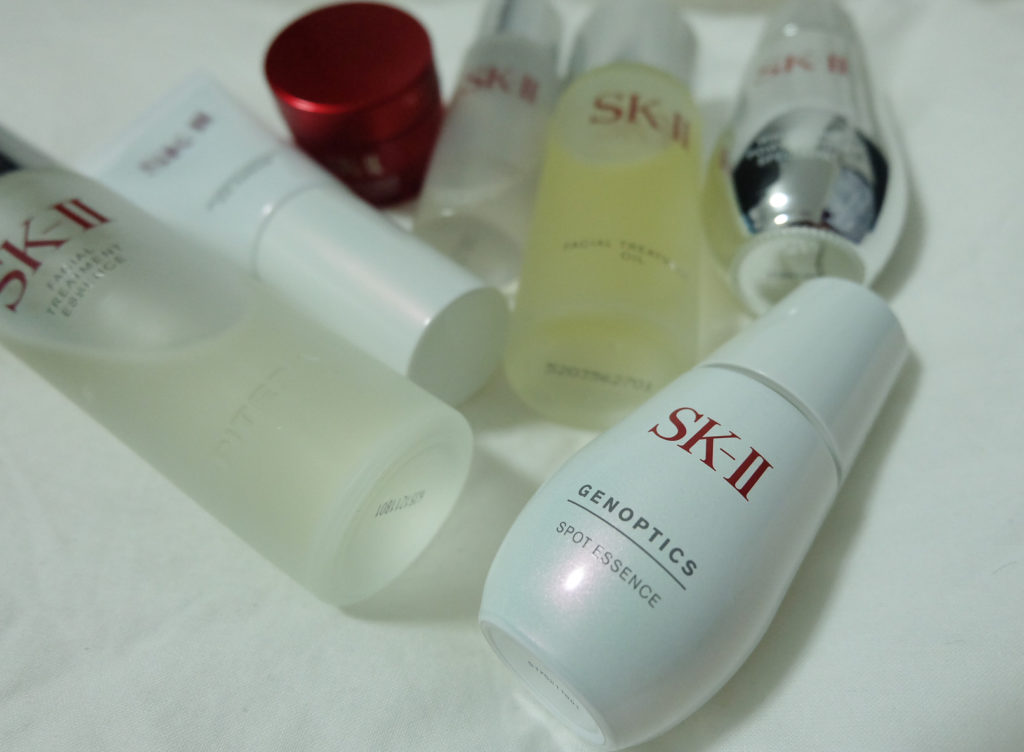 5. RNA Power Cream
This keeps my face moisturised and dewy for hours. I apply it every morning after FTE. It looks pumped but its actually lightweight and easily absorbed by the skin.
I find this very expensive and might not repurchase since I still have the Facial treatment oil that can last for more than 6 months.
6. Aura Activator CC Cream
Best CC Cream Ever. The main reason I'm into CC creams is to protect my skin against UVA and UVB rays that can eventually cause dark spots and uneven skintone. This has been reformulated is now labeled as SK-II Atmosphere CC Cream.
Thoughts
Korean vs Japanese skincare
It's hard to decide whether one is far superior than the other but easy to love both worlds of innovative skincare products. While Korean skincare is often more affordable and accessible, Japan has always been the forerunner of Asian skincare.
I'm happy to have found another trusted brand into the mix.
Pricey but worth the splurge!
I did a SK-II Magic Ring "Discover Your Skin Age" Test to check if my skin is aging faster than it should.
I'm glad to know my skin is not older than me (yet). Teehee!
So ladies, pop by SK-II counters now and get an in-depth analysis of your skin in 10 minutes.
Love. Sunshine. Morning Tea.